PioSolver Course - Endboss Package
Everything you need to know about PIO
No Previous Experience/Knowledge Required

Learn How to Use The Most Advanced and Powerful Features

6h of Material, inc feature guide, HH analysis
PLUS bonus Mental Game Series
Blockers in 20m
Learn when to make the big move
Learn How Blockers Affect Your Folding, Calling and Bluffing Decisions

17 Rapid Fire HH analyses

Make Smarter Decisions, Play Better =>
Crush Your Opponents
Poker HU Challenges - The Numbers
Between the Galfond HU PLO challenges, and the Doug Polk vs Daniel Negreanu NLHE challenge, it's fair to say the poker world recently has been a-buzz with opinions, bets and general drama. I for one am all for it – one of the best attributes of the poker community at large is they are willing to put real money behind their opinions, especially when it comes to who is better at what. So, if you're considering a bet on one side of a HU challenge (on a site like pokershares.com, where I stole the below image), what variables should you be considering and how do you determine which side you want to bet on and for how much?
Doug Polk vs Daniel Negreanu
At first glance, it's very easy to glance at these two names and conclude that Doug (a legit HS HU professional of many years) will mop the floor with Daniel. This is no disrespect to Daniel, just a reflection of the fact he has spent many years largely playing soft, large field MTTs, which demands a completely different skillset than HUNL. So, if we expect Doug to win, we bet the farm on him, right?
Not quite.
One of the more devilish aspects of poker is that winning players sometimes lose, and losing players sometimes win. This is due to variance – doesn't matter if you consistently do everything right, sometimes you're going to make second best hands or see unfortunate runouts, etc etc. It seems it's not yet known how many hands exactly they are going to play, but let's imagine for a second that they agree to play 20k hands. How often will Doug win given a 5bb/100 winrate? Let's assume 100 standard deviation, a low-ish number for HUNL.
We head over to https://www.primedope.com/poker-variance-calculator/ and plug in these parameters, this is what we see.
Alright, so what does this mean? Look at the third and second to last lines in the table – given a 5bb winrate, Doug has a 76% chance of winning over 20k hands. If this were a good approximation of reality, out EV of betting $100 on each contender would be as follows:
EV(bet on Doug) = (chance he wins * amount we win) + (chance he loses * amount we lose)
= 0.76 * 18 + (0.24 * -100)
= 13.7 – 24
= -10.3
EV(bet on Daniel) = (chance he wins * amount we win) + (chance he loses * amount we lose)
= 0.24 * 425 + (0.76 * -100)
= 102 – 76
= 26
So, we can see that IF this were a good guess at Doug's winrate over Daniel, we'd actually have a very clear bet on Daniel, though he would obviously be the underdog.
But what if we think Doug's winrate will be something other than this? What if they agree to play less hands? At what winrate would betting on Doug be 0EV? What if Daniel plays in such a way as to maximise variance (a smart strategy if he's behind..)? We can answer these questions by running more sims with a range of different parameters. Assuming standard deviation 100 and 20k hands, here is the EV of betting $100 on Doug at 1.18 with a range of different winrates.

Well I did it! I bet 10k of my 20k bankroll on @RealKidPoker getting 4 to 1 vs @DougPolkVids. I would of bet it all but needed 6k for bills on nov. 1st. Plus the 5k I bet on Trump to win in March that could be in jeopardy. Let's go @RealKidPoker don't let me go bust again!

— Mike Matusow (@themouthmatusow) October 22, 2020
First off let me just say I'm a big fan of Mike the Mouth. I bought and read his biography 'Check-Raising the Devil' the day it came out and thoroughly enjoyed it.
However, I was pretty dismayed to see this tweet today. On the one hand, he's backing his old friend to the hilt and I've got to rate it. On the other hand, unless there's something very substantial Mike knows that we don't, as in superuser abilities for KidPoker, this is an absolute disaster for those of us who want to see a legend of the game stay in action.
Again, we can let people smarter than us do the heavy lifting here. Let's say Mike believes the market has it drastically wrong and that infact Daniel Negreanu is breakeven against one of the best HUNL players in the world. In this circumstance, the match would be decided purely by variance i.e. each player would have a 50% chance of winning. How much of his 14k bankroll should Mike be willing to risk here? We can head over to https://dqydj.com/kelly-criterion-bet-calculator/ and find out.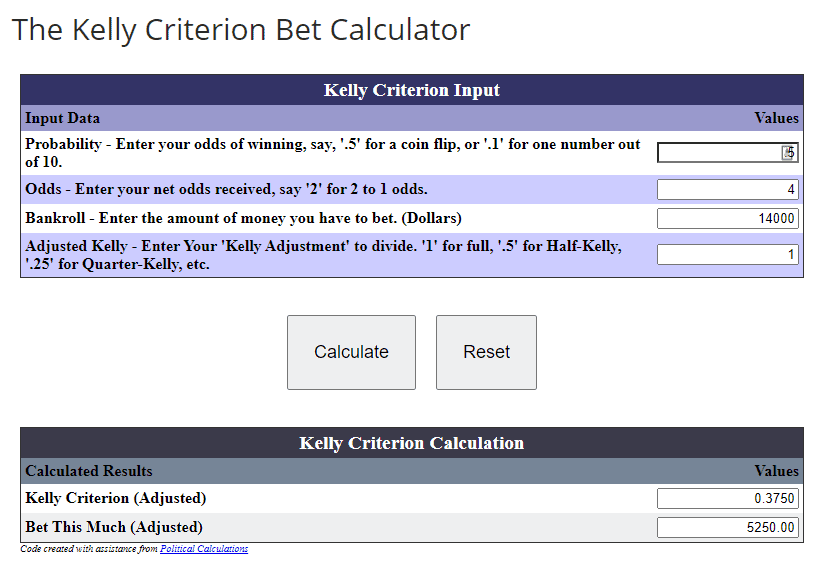 For funsies, I ran some further sims to see under what circumstances it would be smart for Mike to be risking around 75% of his roll. Answer: if DNegs was an 80% favourite to win this bet could be justified. To be such a strong favourite, he would need to be beating Doug at around 6bb/100 (based on same assumptions as above).
We respect the ride or die attitude Mike, but it's time to lay this one off!
That's all for now folks, will be happy to answer any questions either in the comments or on Twitter.
GL out there!
D7
PioSolver Course - Endboss Package
Everything you need to know about PIO
No Previous Experience/Knowledge Required

Learn How to Use The Most Advanced and Powerful Features

6h of Material, inc feature guide, HH analysis
PLUS bonus Mental Game Series
Blockers in 20m
Learn when to make the big move
Learn How Blockers Affect Your Folding, Calling and Bluffing Decisions

17 Rapid Fire HH analyses

Make Smarter Decisions, Play Better =>
Crush Your Opponents